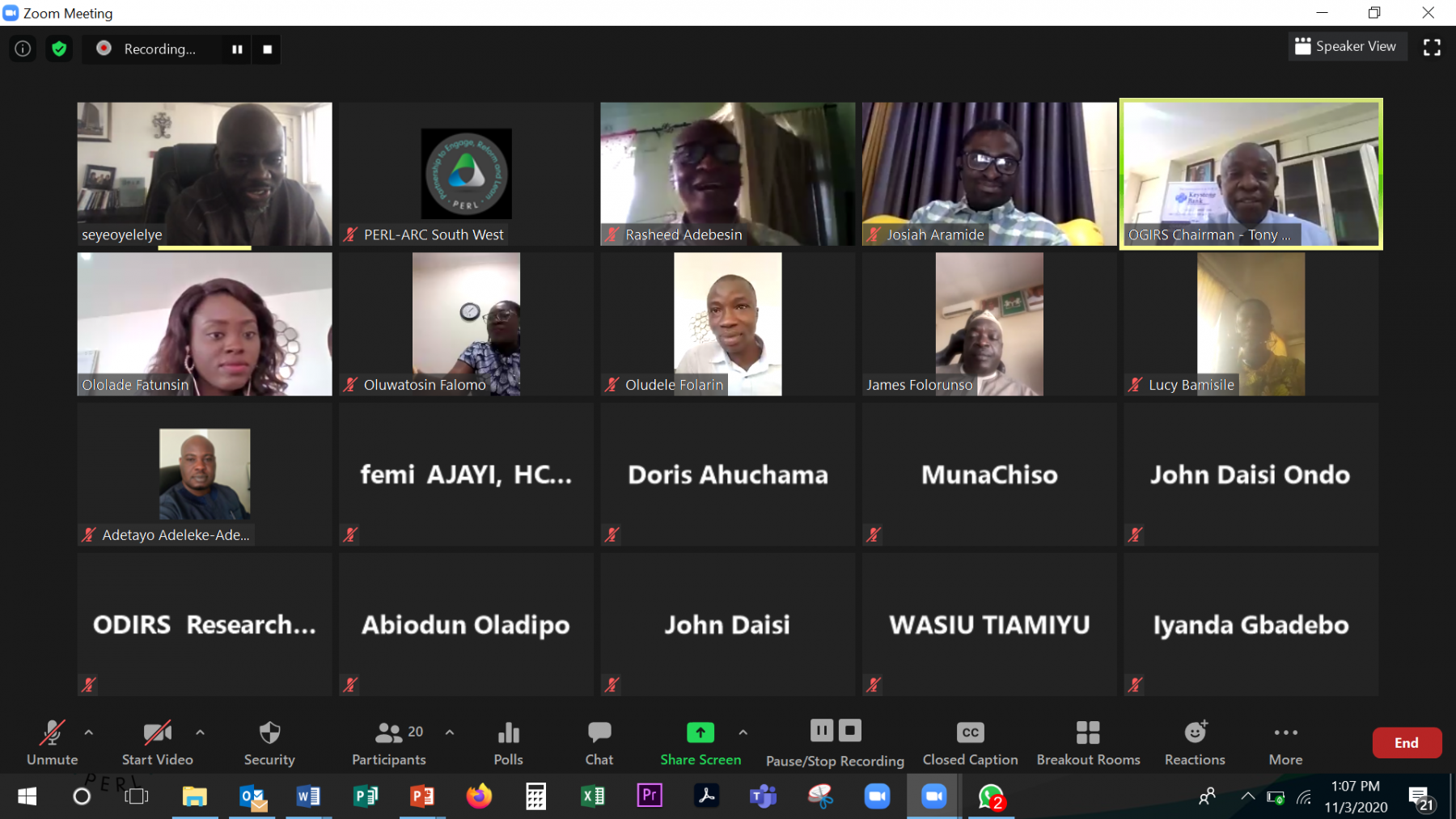 Recognising that revenue from the Federation Account Allocation Committee (FAAC) is diminishing, the six states in Southwest (SW) Nigeria have resolved to strategize on how to mobilise resources internally to generate revenue to fund their expenditure budget. The resolution was made during an inaugural Community of Practice (CoP) session for key stakeholders of the domestic revenue mobilisation (DRM) sub-sector from across the six Southwest states. The need to generate more revenue had become glaring considering that almost all six states can no longer depend on the FAAC allocation to fund improvements in service delivery. Below are illustrations of the relationships between internally generated revenue to total revenue (FAAC and IGR) of each of the SW States.
| | | |
| --- | --- | --- |
| | | |
| Only Lagos State has Internally Generated Revenue (IGR) larger than that from the FAAC, at 60% as at 2019. | | Ogun State IGR stands at 43% while FAAC was 53% in 2019. |
| | | |
| Ondo State IGR stood at 23% and it depended on FAAC to fund 77% of its budget in 2019. | | Oyo State generated 17% of total revenue from IGR while FAAC contributed 83% in 2019. |
| | | |
| Osun State IGR stood at 15% while FAAC was at 85% in 2019. | | In Ekiti State, IGR contribution was 10% of its total revenue while FAAC was 90% in 2019. |
As states face a decline in revenue from FAAC, as indicated above, the CoP aims at strengthening domestic revenue mobilisation processes, procedures, and accountability mechanisms for improved service delivery within the Southwest states. The CoP will drive the design and implementation of Medium-Term Revenue Strategies (MTRSs) for each of the Southwest states through sharing experiences, practices and challenges around revenue generation to achieve a sustainable boost in revenue.
The inaugural meeting was attended by the Chairman of State Internal Revenue Service from Ogun State; Commissioners of Finance from Lagos and Oyo States; Commissioner for Economic Planning and Budget from Ekiti State; Permanent Secretary of the Ministry of Finance from Ekiti State; Directors from the States' Internal Revenue Services, Ministries of Finance and Economic Planning and Budget across the region.
The inaugural CoP meeting of November 3rd, 2020, was facilitated by the Development Agenda for Western Nigeria (DAWN) Commission, supported by the Partnership to Engage, Reform and Learn, a governance programme funded by the UK Foreign, Commonwealth and Development Office (FCDO).
While sharing experiences and challenges militating against revenue generation, inadequate implementation of the law granting autonomy to the Internal Revenue Service was prominent. At the end of the CoP, the following resolutions were made:
That states find new ways to maximise untapped revenue sources to increase internal revenue while continuing to examine and engage existing tax laws.
That states strengthen intelligence gathering on revenue mobilisation among revenue-generating Ministries, Departments and Agencies (MDAs).
That states prioritise investment in infrastructure that enhances the automation of revenue generation for ease of tax remittances.
That the SW states foster relationships with all neighbouring states within and outside the region to enhance cooperation in the revenue generation processes.
That political buy-in be secured to ensure that Medium-Term Revenue Strategies (MTRSs) are actualised in the states, to effectively link expenditure aspirations to revenue capability for sustained improved service delivery.
Ogun State has already garnered the political commitment needed to forge ahead with the development of an MTRS. The commitment was given by the State Governor, Prince Dapo Abiodun, at a 2021 budget engagement with citizens, and a time when PERL and DAWN Commission are actively carrying out advocacy to the Governors of the Southwest region for political backing to streamline and sustain domestic revenue mobilisation reform processes.